BLR Financial Solutions has over 50 years of experience in financial services. We came together in 2003 to offer our clients a truly personal service where your needs are closely matched to availability in the market.
Meet the Partners
Ashley Lorrimer-Roberts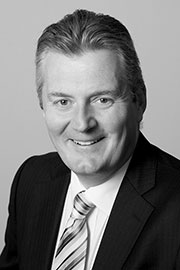 Ash has been in the industry for over 25 years, working previously with Allied Dunbar and St James's Place before founding BLR Financial Solutions in 2003.  Ash has advised on all aspects of financial services, but specialises in mortgages and insurance protection.
Ash loves a challenge and is always happy to help anyone who is looking for financial services advice and provide guidance on the very best option for them, often tackling situations that might have seemed an impossible task to the individual.
Away from the office, Ash loves to walk and is a keen follower of many sports, with golf being his favourite sport to play. He is also a huge Tottenham fan.
Paul Wakefield
Paul spent 20 years with Barclays advising clients as a Barclay's Premier Banking Manager involving full financial planning. Since 2003, Paul has specialised in all aspects of mortgage advice, both Residential and Buy-to-Let plus related Protection advice.
Paul specialises in helping clients find the right solution through advice and recommendation, so his clients are in the best position to buy their new home or re-mortgage their existing one.
Outside of the office, Paul is a keen follower of many sports. Paul is a huge Tottenham fan and enjoys playing badminton and tennis.
Jon Wakefield
Jon spent 15 years at Barclay's Bank, 5 years of which was as a Mortgage Adviser. He then spent 7 years as an Office Manager for a food ingredient company before returning to financial services to specialise in mortgages.
Jon enjoys working with clients with their mortgages to help them buy their dream home.
Outside of work, Jon enjoys spending time with his young family and socialising with friends. Jon loves most sports, especially Tottenham Hotspur, where Jon's currently a season ticket holder.
The partnership team is completed by two key client support staff
After leaving college, Caroline Wakefield worked for Barclay's Bank for 20 years in a variety of roles in both personal and business banking sectors before joining BLR in 2016. She is currently undergoing comprehensive training for a general insurance role within the company while providing client support across the business.
As a first-time buyer, I couldn't have chosen a better broker than BLR. Ashley found me the best deal around and his patience in explaining the process of getting a mortgage and buying a house to someone who has never been through it was exemplary. I can't recommend him highly enough. Look no further!
I have known Ashley and his team for over 5 years. I am always impressed by their ability to match a mortgage to a client's individual needs. We are often the first point of call for our clients on all matters financial, including mortgages. I have had no hesitation in recommending BLR to them, and continue to do so on a regular basis.
I have been working with BLR for more than ten years now and am not considering ever changing. They provide the best possible service and I fully trust their advice.
Ashley is a fantastic trusted advisor and friend, who we have already recommended to several friends. His service has always been bespoke to us and our needs.
Disclaimer:
This website is intended for people over 18 years of age who are resident in the UK only. The website and the information contained therein should not be regarded as an offer or solicitation to conduct business in any jurisdiction other than the UK. These pages provide generic information about various aspects of financial services advice that we provide. We hope they are helpful to you but they do not on their own add up to recommendations and we cannot take responsibility for anything you do in reliance on them without further discussion with us. Please do not make a decision based upon the information contained within these pages alone. Contact us for further advice to enable you to make an informed decision based upon your individual circumstances.